25 Jan 2014

6:00 PM
Licensee Person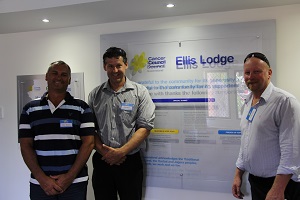 Pipemech has established a safety incentive scheme across all its work sites to support the Cancer Council of QLD.
Every Wednesday, Pipemech's workforce wear pink shirts as visible reminder that through the combined efforts of all our company personnel, we keep safety always our FIRST priority. By working safely, we can also help others, as for every 10,000 man hours worked without recording a Lost Time Injury (LTI), Pipemech donates $10,000 to the Cancer Council, or another worthy cause.
The Cancer Council of QLD, not only focuses on sun-safety awareness and the early detection of cancers, but is also dedicated to supporting cancer patients and their families, whilst they undertake treatment. Regional families, including those living in the Chinchilla region where most of our project work is located, often iexperience additional difficulties and expenses when having to seek treatment outside their local area.
Pipemech recently donated $20,000 to Ellis Lodge in Brisbane, which provides accommodation to regional families of cancer patients while they receive treatment in Brisbane. This donation will fund the 5 year sponsorship of a 2 bedroom accommodation unit at the new Lodge, which provides accommodation to regional families of cancer patients receiving treatment in Brisbane.
Rohan Ackroyd, Simon Ahearn & Andy Douglas were welcomed to Ellis Lodge for the dedication of the unit by Alana Kenny, the Donor Development Manager of the Cancer Council QLD, and were very impressed with the accommodation and facilities within the Lodge. Rohan, Simon & Andy are pictured above at Ellis Lodge.