Vacancies At Pipemech Pty Ltd
Pipemech Pty Ltd is a Equal Opportunity Employer who's team is committed to maintaining excellent customer service standards, by providing total asset solutions from site establishment to completions.
If you have the skills and drive to perform to the highest Pipemech standards and would like be part of a dynamic team, in our progressive organisation, please complete the following application process to be considered.
CURRENT VACANCIES:
Currently there are no vacancies avaliable.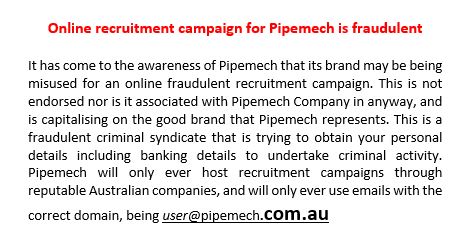 Apply Now:

Personal Information
Mr Ms Miss Mrs
Citizenship Information
Yes No
Professional Information

Other (please provide details):

Referral Details
Have you been referred by an existing Pipemech employee? If so please enter their name below;
Resume & Qualifications
Please upload your resume as well as full colour (front & back) copies of your Driver's Licence, Qualifications & Construction tickets.
Submission